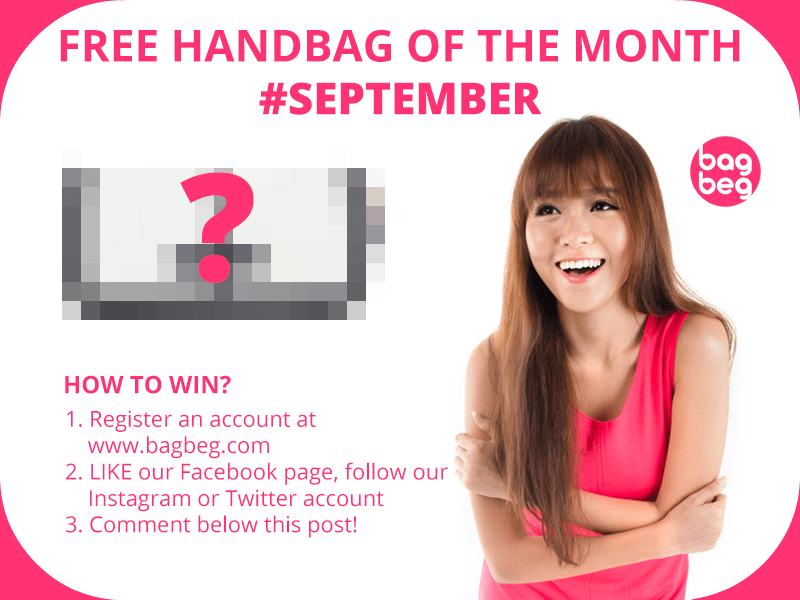 ​
September is certainly a great month, as BagBeg is holding a contest for every handbags lover!

Announcing "FREE HANDBAG OF THE MONTH" contest!
This is where you can Win a free handbag from BagBeg.com for absolutely free! Free delivery too!
We will hold this contest every month and each month, we will choose 1 lucky winner from the list of eligible participants.
Just follow the 3 simple steps below and you will stand a chance to win a premium handbag from
HOW TO WIN?
1.Register an account at www.bagbeg.com, you can also register with your Facebook or other social accounts.
2. Make sure you have LIKE our Facebook page and follow our Instagram or Twitter account. Instagram: BagBeg, Twitter: @bagbegmy
3. Comment anything below this post so we can know that you are participating!
TERMS & CONDITIONS
- You must have a registered account with www.bagbeg.com
- A random handbag will be chosen each month for giveaway
- Only legitimate email and social accounts will be eligible
- The winner will be chosen at the end of the month randomly
If you have any questions regarding this contest, please do not hesitate to let us know!
Email to sales@bagbeg.com, shop online for premium quality of handbags today!